Christina Evangelina Ross is the mother to The Ross Family kids on the show, "Jessie", known as Emma, Luke, Zuri and Ravi. She and her husband are similar to Angelina Jolie and Brad Pitt, since they have adopted children of different ethnicity. She was a supermodel (Emma says that she is a ex-supermodel) and married to movie director, Morgan Ross. She favors Zuri. She is a former counselor of Camp Kikiwaka.
Personality
She's like all mothers: wise, loving, and strict. She often gets annoyed at Jessie when she shows negativity, and makes fun of her. She has made a fortune trusting her instincts, as well as putting her name on everything.
Physical Appearance
Christina has blue eyes and dirty blonde hair. She shares many of the same features with her biological daughter, Emma.
Appearances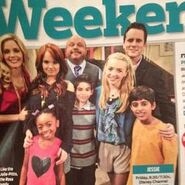 Relationships
Children Christina has four children, each of which he has a different relationship with. She cares about Luke a lot and whats him to learn about his real parents but she is more compassionate towards Ravi. Emma just wants to make her mother proud where as Zuri likes joking about with her and believes thats she's her favourite. Although they don't see each other a lot, they appear to be close and have good relationships.
Spouse Morgan is Christina's husband. They met at Camp and hated each other at first, but fell in love at The Spot. They are both big time movie producers and have had one biological daughter and three adoptive children. The date they met and got married is unknown.
Trivia
She met Morgan at Camp Kikiwaka.
She won Morgan's heart against her "rival", Gladys. Gladys is the new proprietor of Camp Kikiwaka.
Her middle name is similar to Emma's by how her's is Evangelina and how Emma's is Evangeline.