Morgan Ross is the father of the 4 Ross kids known as Ravi, Luke, Emma, and Zuri. He is also the husband to Christina Ross. He met Christina at Camp Kikiwaka. At first, he and Christina hated each other but fell in love one night at The Spot. He and Christina Ross are like Xander and Emma.
Personality
Morgan is quite childish, like his son Luke. In Jessie, he bought a lightsaber and was swinging it around like a child. He's not the smartest but he cares deeply about his family.
Physical Appearance
Morgan is tall with dark brown hair and brown eyes. He has similar features to his adoptive son, Luke.
Appearances
Relationships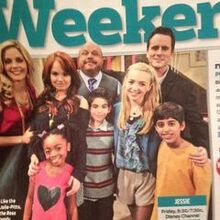 Children Morgan has four children, each of which he has a different relationship with. He acts more like a best friend than a father to Luke, but he is more compassionate towards Ravi. Emma just wants to make her father proud where as Zuri likes joking about with him. Although they don't see each other a lot, they appear to be close and have good relationships.
Spouse Christina is Morgan's wife. They met at Camp and hated each other at first, but fell in love at The Spot. They are both big time movie producers and have had one biological daughter and three adoptive children. The date they met and got married is unknown.
Trivia
Morgan met Christina at Camp Kikiwaka.
Gladys loved Morgan, but Morgan loved Christina.
It's hinted he will appear in this series.