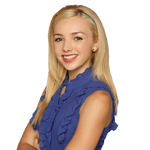 Add More!
This article is a stub. You can help the Bunk'd Wiki by expanding it.
Murphy is the chef at Camp Kikiwaka. He is portrayed by Casey Campbell.
History
Season 1
The Ones That Got Away
He appears as the camp chef and Gladys chases him. He is seen woken up by Gladys and says she looks like a flounder that he once caught. Later in the episode, he is seen with Gladys in the camp cafeteria again and tries to get out talking to her by claiming that he was going to wash his apron. Gladys notices that he washed it earlier, and the claims that he is trying to boost is grade in the health department rating from a D to a C. While dumping out the trash, he listens to Xander about his relationship with Emma, and giving him advice to never eat the meat at camp. In the end of the episode, he is seen with Gladys and he apologizes for being so hard on her and saying that "maybe we could make it a little unprofessional."
Appearances
Ad blocker interference detected!
Wikia is a free-to-use site that makes money from advertising. We have a modified experience for viewers using ad blockers

Wikia is not accessible if you've made further modifications. Remove the custom ad blocker rule(s) and the page will load as expected.