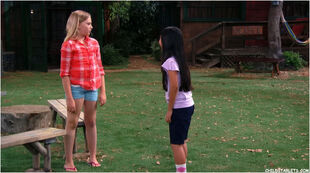 Natalie is a minor character from BUNK'D. She is shown to be 11 or 12 years old and is shown to be a cameo. She appears in The Ones That Got Away.
History
Season 1
She was seen in the main outside area of Camp Kikiwaka. Tiffany asks her to be her fishing partner, and that she'll be Tiffany's best friend. Natalie gets up, shook her head and walked away.
Ad blocker interference detected!
Wikia is a free-to-use site that makes money from advertising. We have a modified experience for viewers using ad blockers

Wikia is not accessible if you've made further modifications. Remove the custom ad blocker rule(s) and the page will load as expected.